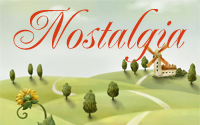 I can't believe it's another week, ang bilis ng panahon, feeling ko di pa ako nakapaghilamos Huwebes na uli ….
I can't believe it either I've survived a 10-year marriage, 10 years with three children. Thing about this marriage is that I don't cry over fights with my husband, in fact in those 10 years we really don't have any major, major fight. I cry over the people around him, especially with issues involving my MIL. Grrrr…..
What is one big mistake that you did in your life? And what did you do to make it right?
Answer:
Good evening Las Vegas! I think the greatest mistake I made in my life was to decide to live in my MILs house, it robbed me of my natural abilities to make a home, and what did I do to make it right? None yet, because in the Philippines, culturally, it is a demeaning idea for someone, especially for younger people to leave their parents alone … Call me a sufferer for a cause, but there are other people involve and I don't want them to get hurt and that's my children. If only I could turn back time, then that would be the time, I can make it right. Thank you very much.
PS. I know pride kills, but this my only way to survive around here... please don't judge the writer .... the writer is the judge. This is her blog... she writes whatever she wants to write.....ahahahahah!
Haisst…. I'm getting emo… mouse on the Nostalgia badge above for more nostalgic marveling.