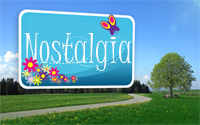 I've been thinking hard of what will be my entry for today's Nostalgia hosted by ever smiling Rose. Stress ako ngayong week, it's just that I have to give some focus on my part-time career since it's the first week of class for the second term and I'm on the introductory stage of the subject so the talking was all mine.
Anyway, can't miss this week's nostalgia.
I used to collect badges, bar pins, especially those commemorative ones, I had around 200 during the heyday, I even have a canvass on my bedroom wall displaying all my collections, but we often move from one place to another because of my fathers job, and I lost track of those pins anymore. Of all those collections that I have, these are all what is left.
I did not buy any of those pins I collected, each was given or I ask or I found while walking along, each pin has a story to tell.
The violin bar pin was given to me by my mother as a gift; it's made of 15K gold
The Tweety was given to me by my boyfriend then, now my husband.
The JCI ASPAC, was a commemorative Jaycee bar pin was handed to us when we went to Macau for Asia Pacific Convention
The black one/sword pin was given by an American Soldier friend who was assigned in Iraq during the American invasion + horror stories of surviving the war.
The dove was given by a nun friend
The ones with cross was our official badge when I worked before in a newspaper company.
The GSP pin was my remembrance that once I used to be a member of the GSP.
So there, see you again next week for another round of
Nostalgic Marveling at Rose's Blog.