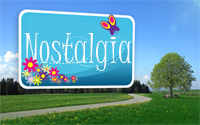 My mom worked in Kuwait before, and she was so loved by her employer. Whenever she would come home to the Philippines she would bring home a lot of stuff that are gift to her by her millionaire Arab employer.
One time she brought home this antique jewelry pouch, I swear they are full of fine golden necklace, when we brought it out there were 26 necklaces, unmindful of what we say sometimes, we said where have all the pendants gone? May gana pang-magreklamo, LOL, but we found out it was boxed separately and they are gorgeous.
So sad after 3 years of moms being loyal and rendering her tender care to that old woman, she passed away, and we jokingly said, OMG, you might become an heir to her golden 'arinola' (sorry can't find an exact English word that suggest cultural association, LOL)
It made me nostalgic because during those times that this Arab woman was alive she would surprise to call us here in the Philippines if we were OK, we did not even see her in person, but I can tell she has a good heart so sad she has to journey ahead of us.
So there, more of
nostalgic marvelings at Rose's blog
. See you next week.