Some heads need some cooling off after several days of doing some leg work running here and there, not to mention my everyday battle with my M..L's unbearable face, lol. Haisst …
Nonetheless, I was searching this controversial video Born Free by MIA –the rapper that was banned from Youtube, silly me, how can I find it when it's removed but stupidity sometimes leads to some things awesome. I instead run on Matt Monroe's Born Free, it made me remember my father…bulb spark on my head, perfect for today's Nostalgia at Rose's blog.
This song made me remember my father, well; who wouldn't this man was somewhat like a ghost that would haunt you every time you hear him sing every Sunday on local radios. But honest this song was my alarm clock every morning then, my father would sit on the bench just outside my room window and sing this song, during that time, it's wasn't a nostalgic tune, but an irritating voice that you know someone was letting you wake-up hitting the road.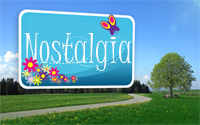 Now, it just made me smile remembering those days, but the irony of it all, the face of freedom is obscure; I know I get to touch it, but I can't reach it … maybe because freedom is an illusion.
Hay naku! xa.. Join us every Thursday by clicking on the badge or see more of nostalgic marveling at Rose's blog.