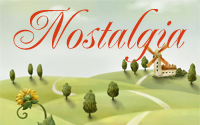 I was supposed to just let this week pass by missing nostalgia post. I can't move my butt out of my swivel; I'm dumped with piles of papers that needed to be reviewed. Coincidentally, I was listening to this jazz radio station on my home and this music really caught me. I can't remember anymore when was the last time I heard this, thanks to Lady Gaga and the gang at home.
It would often took me sometime to remember things, but hearing this it brought back memories of my first piano teacher before so fast. This was the first piano piece I learned back in HS when my mom pushed me to tickle those piano ivories under duress. LOL..
Unfortunately, I can't play them now. I'm back to square one… hahaha…
It's nice to live by the meaning of this song; unfortunately the kind of September now is far from mellow. Right?
Listen!