This is a Sponsored post written by me on behalf of Express for SocialSpark. All opinions are 100% mine.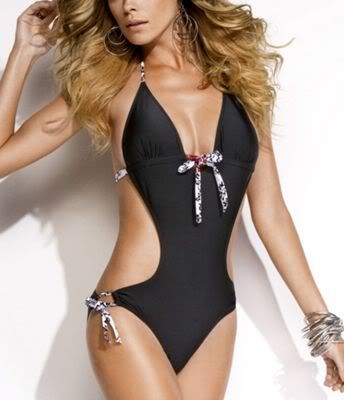 Summer on this side of the world is just around the corner, in fact, we're starting to feel the heat, makes us want to cool off time and again. I haven't done any summer activity preparations yet, we're still busy with the last leg of school activities around here.
But it won't be long, I'm heading to shop for some swimming outfits for myself and the kids for this summer we're hopeful we could push through with our plans to have a summer getaway in Siquijor Island this April, fingers crossed!
I actually had a survey already around online shops here, you know these things frugal moms do before buying a thing, I might get some cut rates then that would be a big savings already.
Anyway among the online shops, I'm particularly drawn to this Express Spring 2011
women's swimwear
Collection. With the type of figure I have now, I mean it's always good to know where's your place at, so you can figure out what type of swim suits are fit to a mom-of- three body type like mine.
I love this monokini on the photo, it looks like it would hide my bulges and throws an illusion of perfect curvature.
Express Online does not only carry this type of swim wears, they carry two piece
bikinis
, monokinis, and string bikinis in various styles with creative designer details. You can have a choice of solids, graphic prints, reversible styles, metallic sleek, nautical-inspired striped designs. They also have pieces with glamorous beaded trappings - just incredible collection.
Not only that, they also offer a wide array of beach essentials to pair off your sexy swim wear, they have tote bags, sandals, sunglasses and stunning hats to match.
Men also have awesome pieces in their store - the latest designs in men shorts are all up for grabs.
And here's the cool part, Sign up for
Express e-mail
now and get a chance to win one of ten $200 Express Gift Cards, just visit this
sweepstakes rules
page and know the details.
So what are you waiting for, spice up you summer, get glamorous, get sexy with Express.