I have been involved with contests around this blogosphere lately and one of them is
Travelin' With Marie's 'The 25 Days of Christmas Holiday Contest'.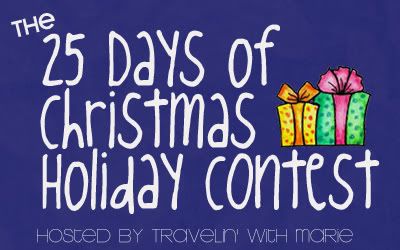 This is suppose to be the first task I should have done for this contest but I've been so full these past days that beating off the deadline to get 2 entries for this post is my first hour blogging job today. So here we go,
I grow up with Seventh Day Adventist people around me and Christmas is not a highlighted event in the lives of these people, but we have extremely fun celebrations during New Years.
But when I got married and have kids myself, it has already been a family tradition to have kris kringle, kids as they are, really love exchanging gifts and a must-awaited event during the holidays in our family, that eventually even the olds cannot resist the fun and join.
There are more practices other than this that a Filipino family is into during Christmas, but this is where I see the eyes of the children sparkle more.
This Christmas would be another expression of this family tradition of ours.
My heartfelt greetings of peace and prosperity this Christmas to Travelin' With Marie and her family. Good luck to me, wishing to get the first prize.
Thank you for taking time to read and see you again for another experience in this side of town.
Wishing to get these stuff free?
Join this contest.

Prizes and Sponsors.