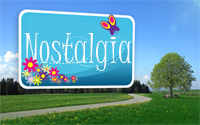 This photo was taken back in the early 80s when my father still worked as a forester in a logging company in Sultan Kudarat. We went to visit him literally in the middle of the forest; there were access roads though so this humungous logging truck can pass through.
The community in the middle of the forest was composed of the family of those who worked also with the company. But since I was in school we seldom go up to the boondocks and visit him.
Gosh, I didn't realize until lately that my father worked then as an agent to destroy those lush forests, LOL! Being a tree expert he identifies names of the tree, species of the tree, how old is the tree and many more about trees before it will be chained-sawed and loaded to this PiterBilt. But eventually my father resigned but he was recalled and stationed at the office and later retire. Glad I was able to pose as a remembrance that once those forests produced these huge logs and that once our motherland was robbed of these resources and only few mighty and rich had benefited and amass tons of money, destroyed our carbon sink that also made my father a small-time pensioner. LOL!
Thanks for dropping by on this side of town. See again for another
Nostalgic Marveling at Roses' blog.