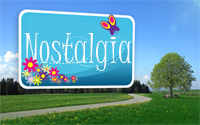 I'm really having a hard time right now with my g key; I need to put more pressure when pressing it, yeah! I know some kinda hardware problem, can't afford to buy a new laptop right now I should solve this problem after Christmas…. Meantime, I was absent last Thursday for nostalgia, my cerebrum is not serving me right, and how come I can't remember anything…lol… I refused too.. Information overload maybe… ngek…
But I'm making up this week, soweee mami Rose… here's my share..
My kids all look the same when they're of this age that I made albums with different colors with their names on the cover to tell the difference. I love it when they're babies since they can't get out of the house without me, but times is slowly changing, sometimes I only got a note on the fridge telling me they're out. OK fine go!
Love it sometimes eating alone with no pressure of cooking something… hahahah!

Join us every Thursday and share your life's nostalgia at Roses blog.