This post brought to you by Hills Pet Nutrition. All opinions are 100% mine.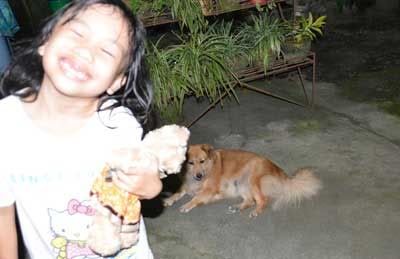 See that dog? That's Barbie - a mixed breed of Pomeranian and a native dog - she's my daughter's best bud ever but several months back we had her adopted by a close aunt who just live next door its because her pulmo doctor said to refrain from getting close to Barbie for a while to prevent contacting dander and saliva that in effect would lessen her asthma attacks, that event really had taken a toll on her, we can see her sneaking out bringing dog stuff to the other house - but that's best solution we can think than bringing Barbie to the pet shop.
We had Barbie around the house for two years, those were crazy years – aside from my daily steam cleaning routine, I have to deal with a lot of their mess around after all their chasing, their eating and their whining. But more than that is Barbie's collection of overstated dog fashion and accessories. OK, though complaining sometimes, I'm also delighted to see a pretty dog walking in polka dots.
Taking care of dogs is a concealed responsibility for children not to mention nurturing the virtue of kindness and gentleness a reason why we had Barbie, she too was included in our family's priority list. Her vet schedules, her food which until now is still fed on
Hill's Pet Nutrition
. Though she's not a house pet anymore, My daughter still bond with her after class since she just live next door, but not sleeping with her anymore.
If you have a pet dog, I recommend you feed your buddy with Hill's Pet Nutrition, it's clinically proven to improve your pets mobility in just 30 days, with its scientifically formulated ingredients I'm sure your pets will get more out of their life, and quality is unquestioned as it is widely recommended by veterinarians worldwide.
And hey! Offer to your buddies does not end here, visit www.hillspet.com and register for the Hill's Healthy Mobility Challenge and get yourself a
Hill's Healthy Mobility Coupon
worth $30 and on top of that you'll automatically be entered into the Sweepstakes and be among those 30 pet dog lovers that will get a chance to receive a year supply of pet food for FREE. That's a real awesome deal! So register now!